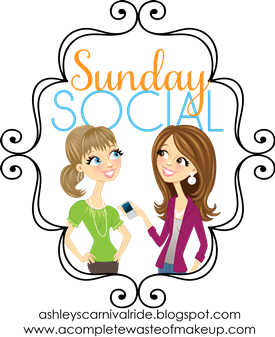 Im linking up this week with Neely and Ashley for Sunday Social!!
1. What is something you have wanted to do but are afraid of? Go back to school. I am afraid I won't have the time or energy to keep up and then once school is done I will have to move on to other things aside from just being a bedside nurse and that scares me a little. I am afraid to commit to something so big!!
2. Where do you see yourself in 5 years? Hopefully with at least 2 more kiddos, working part time and continuing to live a happy healthy and full life!
3. What are you looking forward to before the end of 2012? This sounds so silly but I am finally hosting a baby shower for one of my friends and I am so excited because I have never been asked to help host one and I have always wanted to!! I have so many cute ideas stored up I can't wait!!
4. What are your hopes for your blog? That people will still enjoy to read it and that I can get my act together and post more than once every blue moon!
5. Do you always see yourself living in your current town/city? Yes, probably. I would love to move north ideally Boston but in reality I see us being here. Hubby's job is here and only here maybe dallas but while Houston wasn't our first choice in cities we have grown to love it and having grown up military I don't want to put my kids through moving all the time like I did. I want them to make friends as young children and grow up with those same friends. Something I always longed for as a child.
6. What is your morning routine? This is really hard. I work night shift 3 nights a week so I have two different options haha.
a "morning" before work:
wake around 300-330pm
400- cook dinner, play with L
shower by 430pm
leave the house no later than 550pm to be at work around 630pm
a morning I don't work:
0700- wake up, drink coffee, blog, eat breakfast
0800- L usually wakes up around 8 or 830 so I get him up and feed him
0900- I try to go for a run by 9 at the latest
1000- watch Today show with Kathy Lee and Hoda then shower
Nothing really too exciting haha